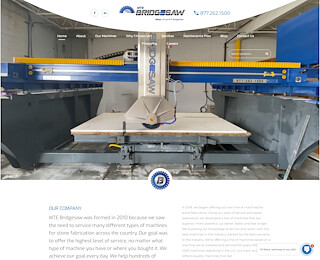 Stone cutting saws for sale are all around because they are essential power tools for the fabricator business. They are used to cut through different kinds of metal– light and thick– effectively, safely and quite easily.
Whether you are fixing a door jam or replacing a countertop, the first and most important thing is the kind of saw to get. There are different kinds of stone cutting saws for sale. While some serve more than one purpose, others can serve a single purpose. Bridge saws are a must-have tool for every fabricator; either a manual one or an automated one.
Choosing between an old or a new bridge saw is a matter of needs and preference, but regardless of which you choose, there are certain things to look out for in getting the best bridge saw:
The Bridge and Beam
When looking to buy a bridge saw, either old or new, you must ensure to purchase one with the strength and stable qualities of its beam and bridge. This is what would give you an accurate cut.
For materials like a thick slab of granite, when you try to cut them, it sends a lot of pressure towards the bridge and beams. If these two bend, your saw will produce an inaccurate cut. The best bridge saws are the ones that their bream and bridge are built with cast iron.
Oil Bath
The same way the beam and bridge of a bridge saw ensures its accuracy and sustainability is the same way maintaining components like oil will. This is why a bridge saw should have an oil bath that maintains its rollers and bearings, preventing it from quick wear and tear.
When looking to obtain a bridge saw from bridge saw suppliers, ensure to purchase one with an intact self-maintaining system that helps you reduce the cost of manual maintenance.
A Programmable Controller
Programmable controllers make the work easier by allowing the equipment to operate efficiently. It also allows new operators to be able to easily work with a bridge saw. It makes the work faster and more productive in a short time.
You will most likely not find these in an old bridge cutter, but if you are getting a new one, look out for it.
The Water System
A bridge cutter with an automated water valve is also another efficient and time-saving feature to look out for in a bridge cutter. It provides water based on demand and need, reducing waste and expenses.
A Tilting Table
With a tilting table, there is no limit to the angles or shapes one can cut. This can save a lot of time and ensure a quality output in your project.
Whether it's a new bridge saw machine for sale or an old one, you can count on us for quality and product. We are Bridge saw manufacturers that also repair and refurbish the old ones to new-like conditions and the new ones ate of the tech and efficient features that help produce an excellent outcome.
Contact BridgeSaw to learn more about us, our machines, and our services. We serve all of the United States, Canada, and Mexico: 877-262-1500